WHAT PEOPLE ARE SAYING ABOUT IBT
Brian and Lisa Rademasher, Chicago
Marco, Greetings from Chicago! It has been four months since my wife Lisa and I were in Florence. It was in October, roughly the 16th and we were the only two on the tour. I'm sorry it has taken this long to send a letter to you, as I remember our discussion about staying in touch after. Hopefully you remember us, we had good conversation along the route and a fun time tasting the wines at the two vineyards. It should come as no surprise that the wine and olive oil has been shared and consumed quickly.

Thanks again for such a wonderful tour. It was a perfect way to end our Italian vacation! In the chance that you are in the Chicago area let us know. It would be a pleasure to show you around and converse over a good American wine.

I hope this e-mail finds you well and happy in the new year. Take care and we'll be in touch.

Brian
Kristine Slaba
We had an amazing time! Another couple here took someone else's bike tour today and it did not sound nearly as great as ours!!!

Thank you!
John Thompson, Washington, D.C., U.S.A.
Once again, thanks so much for a great day and a great ride. We're back home now and still reliving the trip which was perfectly capped off by the day we all spent with you in Chianti.

If you get to DC, be sure to let us know. We can bike the city and make sure you see the sights from a local's point of view.
Emma and Tom, London, U.K.
Marco - just wanted to let you know what a great time Tom and I had on our tour with Elizabeth last Tuesday. Her in depth knowledge of Italian wine and helpful tips on the region were great and really made our stay in Tuscany all the more enjoyable. We now go home feeling like we understand Italian and in particular Tuscan wine a lot better and look forward to putting our knowledge into practice!

We would not hesitate to recommend this tour to anyone else who loves wine combined with a bit of exercise.

Thanks again.
Joy Inkpen, Quakertown, PA, U.S.A.
Marco and Elizabeth,

We had a wonderful time on the wine ride. The gentlemen at the first winery was so knowledgeable and enthusiastic about wine. Sean, at the second winery, was really great also, and we especially enjoyed the personal tour and attention we received there. I hope to get in better shape! My husband and my sons may join you on another ride in the future, they LOVED it, but would have loved an even longer ride. Thanks again.
Heather Pearse, Adelaide, Australia
Not sure if you will remember our bike ride, it was just on a month ago. I am now home in Australia and the bike ride was one of my trip highlights. Thanks so much for the day.

We will drink the wine and remember you. With kind regards and fond memories.
Brandon, Kem, Jim, Robynn, Andy, Angie, Elizabeth and Winston
Thanks again for the wonderful wine ride last Monday! Every one of us (all 7) said it was the highlight of our trip to Florence. You were so much fun and patient with so many opinionated women. Thank you! Here is a photo as promised. We look forward to our next bike ride with you!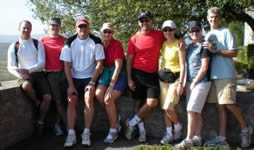 Charles and Antonina Bari, New York, U.S.A.
I can't believe 1 week ago I was riding a bike through the beautiful hills of Tuscany & drinking Chianti and now I'm back in New York! This is terrible!!!

Antonina – my wife - and I both had a great time last Saturday. I'm glad I rode with you that day because seeing the Chianti region was as nice as I was hoping it would be. I equally enjoyed both riding through the little villages and through the countryside. It was all very nice. I wish I could come back out for another ride tomorrow.

I can't believe I'm suddenly 4500 miles away! It still feels like I'm so close. Oh well…

I'll certainly recommend you should I hear of anyone else I know visiting the Florence/Tuscany/Chianti region.

Also, if you see Sean (I think that's how you spell his name) again, could you thank him for the terrific tour he gave us? He was the guy at the second winery that we stopped at. I think it was Casa Sola? Or something like that? I can't remember at the moment. I really enjoyed his hospitality throughout his tour and I was very happy with the wine-tasting presentation along with the snacks. He was very nice and made it an enjoyable experience for us. To stand right next to the grapes in the vineyard field and see the farms along the rolling hills made it all worth it.

Thanks again. Grazie molto and buon giorno a te. Io spero quando ritorno a Italia il mio italiano è meglio!

Regards,
Mindy Meade
We had such a wonderful time. It was the highlight of our trip. I will write a review for Trip Advisor. Thanks again for everything. All my best,
Debra and Dennis Shronz, Michigan, U.S.A.
Oh, what wonderful memories we have! We arrived home on Friday and are now left to bask in the afterglow of our fabulous trip to Italy! Spending time with you and biking in Tuscany is one of our fondest memories. Thank you for such a great day, Marco. You made a lasting impression and we hope you visit Michigan some day so we can return the hospitality. Let's stay in touch!