WHAT PEOPLE ARE SAYING ABOUT IBT
Edie and Nathan Lindeburg, Colorado, USA
Dear Marco and Jodie,

We can't thank you enough for the fabulous experiences we've had during our "Your Tuscan Sun" tour. Words fail us — and that's saying something!

This was a "bucket list" trip that I only dreamed of and you both made it a reality and then some.

We gauge our experiences on fun, history, education and "feel." You hit ALL of these criteria making this a memorable time for us both. We appreciate the attention to detail, the ease with which you handled everything and the bragging rights you've provided.

If we are able to come again, or hear of someone wishing the same experience, you will be TOPS on the list.

Thank you both again. Please keep us in mind if you make it to Colorado. We'd be happy to direct, host or just say hi.

All our best,

Edie and Nathan
Nikki and Steve Drake, Chicago IL, USA
Jodie,

My husband Steve and I finished our "Your Tuscan Sun" tour a few weeks ago as our Honeymoon trip. We had an absolutely AMAZING time. I couldn't have imagined the trip being any more perfect. Marco was a phenomenal guide, the biking tours were exactly the right level for us, the accommodations started out great and just got better and better, and we appreciated having everything put together and planned so all we had to do was enjoy ourselves along the trip. We spent the whole week after the tour in Northern Italy relaxing by lake Como, talking about how much fun we had on the bike trip. Now that we're home in Chicago, we're already thinking about when we can plan our next biking vacation, and which of the We Bike Tuscany tours we want to do next.

I know that you and Marco are in frequent communication so if you would, please do pass along our special thanks to him for making the experience such a great one. We also really appreciate the calendar he gave us as a wedding gift. We'll enjoy looking at all of those pictures next year and will think of the incredible week we spent together in Tuscany every day.

Take care,

Nikki & Steve Drake
Ann Liston and Kate Coyne-McCoy, Boston/Rhode Island, USA
Marco,

Kate and I had such a wonderful time! Thank you for all of your work, recommendations, and attention to every detail.

It truly was a trip of a lifetime. Your "office" of the Tuscan hills is the best "office" we've seen.

Here's the picture of us buying our dishes. We will think of you and Italy every time we use them.

Bravo!

Ann Liston and Kate Coyne-McCoy
Christine Shintaku, California, U.S.A.
I want to personally thank you for such a wonderful time I had riding in the hills of Tuscany with you. It was definitely a memorable bike ride, the breathtaking scenery, the fresh air, the delicious wine tasting, but most of all the great company! These are cherished memories I have of my adventure in Italy and how I long for the day when I will be back riding Under the Tuscan Sun... Molto Grazie!!! Ciao!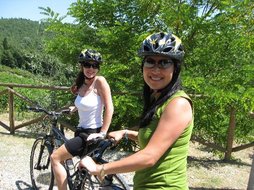 Mary (Maria) and Bijan Pashanamaei, Pennsylvania, U.S.A.
So sorry it has taken us a while to write to you. We just received the photo of Mario – thanks so much! We wanted you to know that our time spent with you was the best part of our trip to Tuscany and we told Diane this. We raved about you and how well you took care of us. We told Diane that she should hang on to you as a business partner because you were such a gem.

Thanks again so very much for the wonderful cycling through Tuscany. You provided us with the best views, the best food and the best accommodations of our entire trip.

We are grateful for your tremendous knowledge of cyclists and cycling and how you used this to create a magical tour for us. We told Diane that the only regret we had was that we didn't spend more time cycling with you! Next time, you will also be on a bicycle with us!

We hope to return to Tuscany with a bunch of friends to cycle with you again. Maybe the Dolomites next time!

Please know that if you are ever on the East coast of the US, you have a place to stay and cycle. We would love to show you Chester County, Pennsylvania from a bicycle.

All the best to you, your team and your business. Thanks again, so very much!
Mary Outten, Santa Fe, New Mexico, U.S.A.
I have to tell you that I have been on several wonderful bike trips in Italy. Other companies cannot hold a candle to the level of personal, professional service you provide to your clients. I have never experienced such a high level of attention to detail and the pure luxury of such an amazing guide as yourself.

I Bike Tuscany is THE BEST.
Sharyll Zuck and Rich Finkel
Dear Marco,

Thank you for making our biking trip through Tuscany truly memorable: We especially enjoyed hearing your recipes and views on American movies. Your expertise on the bike routes, your patience and kindness added tremendously to our enjoyment of our vacation.

With warmest regards