WHAT PEOPLE ARE SAYING ABOUT IBT
Luis and Carla Ferreira, Salvador de Bahia, Brazil
Hello Elizabeth

Just want to thank you for everything during our tour in the Tuscan Valleys.

We really enjoyed the time we spent biking. The tour was magnificent and your assistance was fantastic !!! After the tour , we had a great time in Montalcino and an excellent meal at Enoteca Osticcio. Great food and outstanding view! Off course I brought a case back with excellent Brunellos!

We hope to meet you again in some other venture throughout Italy.

Best regards,

Luis and Carla
Don & Lucy Capezio, Camberra, Australia
THE BEST TOUR OF OUR LIVES!

Jodie & Marco,

Just a quick email to let you know we arrived safely back in Australia last Sunday.

We are slowly catching up with life again here but we can't stop thinking about you guys and the Val d'Orcia!

Thank you for a wonderful tour. The views were all postcards! Your hospitality was overwhelming and the food and wine to die for! The bikes and the cycling was also truly professional thanks to Marco. The best restaurants too!

We can't wait to save up again and come back – maybe Blue Waters or Sicily in September next year.

All the best to both of you.

Regards and tanti baci!

Don & Lucy
Lubben Family, USA
Hi Marco,

Hope you've recovered from the Lubben summer camp. Thank you for designing an awesome trip for our gang. Everything worked out incredibly smoothly and it was an amazing time for all of us. You did an excellent job taking care of the varied biking levels of our crowd. The combination of the rides and activities was just right too. And the hotels and restaurants were perfect. The rest of our trip worked out great also.

If you and Marco ever catch a rainbow photo I'll hope you'll remember to send it me!

Regards, Babette Lubben
The Enderby Family, New Delhi, India & Belfast, Ireland
Amazing family vacation!!

Steven, Maureen, Michael, Rebekah, Sara, and grandparents, Dave and Kath.
Mark Howe & Nicolas Croizer, from Jersey, Great Britain & Paris, France
Hi Jodie and Marco,

We loved our cycling trip! It really was fantastic and such a fun experience. Your organization and support were amazing. Thank you!
Wilkes Family (Dave, Brenda & Sarah), Toronto, Canada
Thanks again for an amazing time in Tuscany. It was the highlight of an unbelievable and unforgettable family vacation.

Dave & Brenda Wilkes
Teri and Mike Sipko, Tampa, FL, USA
Hello Jodie and Marco!

We made it home safe and sound. What a blast we had with you two... we will treasure our honeymoon memories in our heart and you both are such a part of it. Thank you SO much for an incredible trip. I would recommend you for anyone on their honeymoon.

My best friend asked if they could hire you to drive them next year? They prefer shopping and sightseeing to biking :)

Love Teri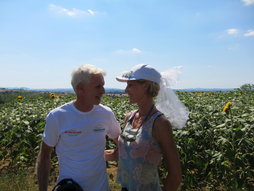 Audrey, Spero, David, Stacy, George, Chandra, Russel, Tony, USA
Hi Marco - I wanted to thank you again for our wonderful bike tour. We all agreed that it was one of the best things we've ever done. You and Lorenzo were perfect hosts and made the experience unforgettable. Thanks again and I'll always recommend you to anyone I speak to.
Kathy, New York, U.S.A.
I don't know if you remember me or not, but last year, July, you took me and my two daughters, Jenny and Chrissy, on a biking tour. I was just reminiscing about it and wanted to tell you once again that it was one of the best parts of our Europe trip. I got a new street bike this past spring and have been doing lots of riding. I hope to return to Italy one day, and if I do I will definitely contact you.

I have some friends from Toronto that are planning a trip to Italy and they seem very interested in contacting you about a tour. I gave them your email. I'm sure you will show them a very good time.
Lynn Zachreson, U.S.A.
Dear Marco,

We are back home to San Francisco, Chicago, and Minneapolis. While weeding through email and other demands of everyday life that stacked up while on vacation, I find myself lost in thoughts of our amazing time biking with you in Tuscany--farms along the L' Eroica course, charming hill towns, castles, and of course family favorite recipes like ragu and apple pie-- all now the fondest of memories.

You are an amazing guide. You quickly knew each of us--our riding abilities, our preference for challenge, and just when to stop for an amazing photo or lunch. You made the trip a lifetime experience for all that would not have been possible in a larger touring group. Thank you for the great care you took with us. I hope you make it to Santa Cruz soon. I would love to take you on some of my favorite rides here.