WHAT PEOPLE ARE SAYING ABOUT IBT
Polly Wong, Singapore
Greetings from beautiful and sunny Singapore !

I can't believe it has only been 2 weeks since we return from our holiday, well mainly because we came back to a pile of work at home eg: office work, family, church etc... hence it felt like so long ago when we did the Big 3 with Chris Small but it was only on 5th April.

My husband and I thoroughly enjoyed our time cycling down the quiet stretch of road passing vineyards and olive groves, savoring every moment of the worlds famous rolling hills of Tuscany. The wine and farm-made olive oil tasting at the winery was delightful and we end up shipping 12 bottles of wine and truffle oil back to Singapore. To end the journey with gelato is a must and we had that San Gimignano. We loved this relaxing itinerary that we have recommended it to our friends visiting Florence in August 2022.

Chris Small - our guide was simply amazing; we enjoyed his company very much. All throughout the journey in the car we were just exchanging our cycling experiences. It is wonderful to be able to see and talk to people after being "stuck" with Covid for 2 years.

Thank you "I Bike Tuscany" for a wonderful day out and an experience of a lifetime.

Regards, Polly Wong
Graeme and Antoinette Blank, Australia
Dear Marco

Hard to believe it is 1 year since we had our ride with you (which remains a highlight of our trip!). I have been thinking of you and Jodie recently, particularly in light of the Covid 19 pandemic and the difficulties it must place on you. I hope you and your families are all safe and well.

I was able to do my ride in Tanzania and got home a week before we had mandatory 14 day isolation for overseas arrivals! The trip was fabulous – 1600km in 14 days and we climbed about 14000m as well. Mostly really good paved roads but a couple of days on gravel or potholed roads. We were lucky with weather – very little rain and only wind one day and temps usually around 31-32 so not too hot. Really poor country but really beautiful people. A couple of nights were in windowless rooms in towns with no electricity. Most places had holes in the floor for toilets and a bucket of cleanish water to 'flush' with. Food was mostly chapati, rice, beans, an egg (poured into a pan so like an omelette but with nothing with it) and sweet tea. Perhaps most importantly we raised nearly $30,000 for the School of St Jude in Arusha, Tanzania.

Still love the idea of a ride in Italy when we are allowed to travel again.

Best wishes
Jon Norcross, Little Rock - AR, USA
Dear Jodie & Marco,

Thanks so much for hosting us on a wonderful tour of Tuscany. I still think about it almost every day. A most memorable trip!

Jon Norcross
Connolly Family, USA
Buongiorno Suzie!!

Thank you for our most favorite day in Italy! You are an awesome person. I will look you up when we return. Take care. Ciao Ciao.
Liz and Alexis, Los Angeles, USA
Thank you so very much for the wonderful tour of Tuscany today! We will definitely recommend you to all of our friends and family and to the Four Seasons.

Thank you again and hope to see you in Los Angeles!

Best,

Liz & Alexis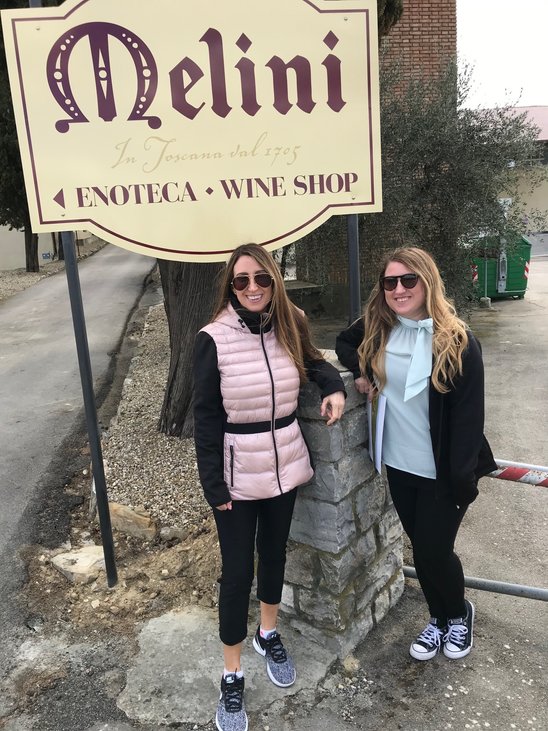 Lauren Somers & Friends, Sidney, Australia
Good afternoon Marco and Jodi

Thank you again for a super day biking in Tuscany....everyone is happily talking about it as we relax and share a glass of vino!

Thanks also to Leonardo and Graham......adding a fellow countryman to the group was very thoughtful!

Until next time....

Ciao from us all!

Lauren Somers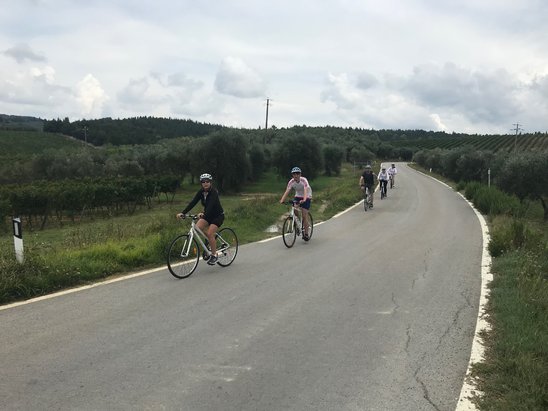 Brad and Pauline Marks, Toronto, Canada
Jodie and Marco;

Pauline and I were so happy with our biking experience and we wanted to thank you so much.

We had a great vacation and saw much of Italy but the biking experience remains the pinnacle of our trip. I couldn't have asked for anything more!

Thanks to Marco, Pauline is now known as "Pauline the Machine" with everyone we shared our stories with. From "short & sweet" to "not-so short & not-so sweet", we laugh every time we talk about biking the hills with Marco.

If ever you guys decide to come to Toronto, you better look us up. Dinner and wine on me!

PS. Please send Marco's recipe for pasta Bolognese and any pics you can share.

Brad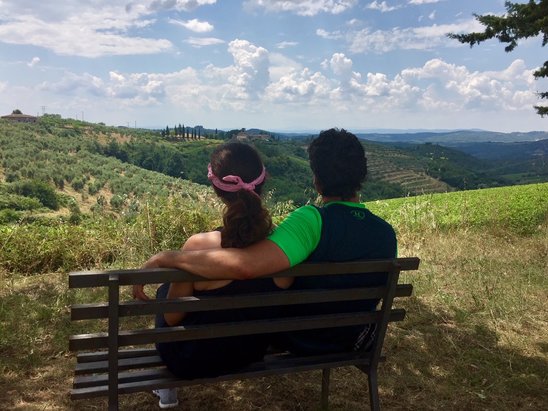 Pamela and Vince Fiano, USA
Hi Marco:

I'm not sure if you remember us, but my husband and I did your downhill to San Gimignano tour a little over a month ago. I just wanted to thank you again for an absolutely amazing experience. We visited multiple cities and did several wonderful tours during our stay in Italy, but the bike tour was by far the best and the highlight of our entire trip. Thank you so much for being so warm and friendly and sharing so much knowledge of Florence and Tuscany with us. My husband and I are already discussing when we can go back to do the bike tour in the autumn as you suggested!

Thank you again for all you did to make that such a memorable experience for us.

Pamela and Vince Fiano
Poplin Family, Atlanta, GA, USA
Marco:

We just got back home from Italy and I am reaching out to thank you and Chris for the great job you did guiding us on the Sienna ride! Moreover, we really enjoyed lunch with both of you and the manner in which you personalized the entire experience.

If either of you find yourself in Atlanta, please know that you have some friends here and do let us know so we can re-connect.

Thanks again and best regards.

RP
O'meeghan family, New Zealand
Good morning Marco and Jodie,

A huge thankyou to you and Jodie for a fabulous day on Tuesday for our family. Thoroughly enjoyed by all of us. Appreciate your care and attention of us all day to ensure we had the "best day". Happy memories in Tuscany!!!

Kind regards The O'meeghan family.