WHAT PEOPLE ARE SAYING ABOUT IBT
Maryna Strilko, Kiev, Ukraine
Dear Elizabeth,

it's been a long time since our Chianti ride (May 8) but anyway let me express my sincere gratitude for the wonderful time we had and for the most positive emotions I had this spring!

I also would like to share with you some pics from our charming Chianti trip. Hope you enjoyed our company as we did yours!

Thanks a lot and hope to have the same great ride with you some day ;)

Warmest regards, Maryna
Brenda and Tom Sweeney, Groveland, CA, USA
Dear Jodie,

We just got home from our wonderful vacation this morning at 3:00AM. We were out of e-mail and cell phone communication until now.

We thoroughly enjoyed our Florence to Rome tour! We're so sorry not to have been able to meet you in person Saturday evening.....Marco shared with us a bit of your story together, so we were really looking forward to meeting. Hopefully we can get together at another time.

Give Marco our best. He did a terrific job with the tour. Tom will be working on organizing our pictures and sending some along.

Cheers, Brenda and Tom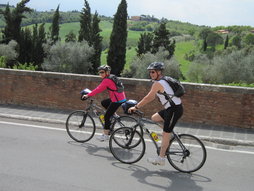 JoAnn DeWitt, USA
Hello Elizabeth

Katie, Michelle and I wanted to thank you for an outstanding experience in Florence. The bike ride and the information about the area that you shared was a highlight!

We took your advice for dining and had our best meal at Il Fagioli, it was wonderful! Also traveled by train to Rome following your advice and everything went very well.

Thank you again and I will not hesitate to send visitors your way. Take care!

JoAnn
Robet Lee, USA
Hi Elizabeth,

Thank you for a great trip and all your help and input in making other arrangements for our trip. Now that I am better aware of what it's like in the hills of Chianti .. spectacular .. I can better "train" for a ride through the hills next time.

Thanks again. Robert
Bobby Stoler, Ann Arbor, MI, USA
Ditto ....unforgettable week .... great group chemistry, great riding, great food ... no injuries; little rain! Can't wait for the next trip!!

Bobby
Roland Pohlman, Ann Arbour - MI, USA
Guys, Just wanted to say thanks for a phenomenal week!!! I was excited to be included and hope I didn't let you all down (too much).

Not to get too sappy but it really was a pleasure to be thrown into the mix with all of you. Bobbie, thanks for making it happen. Dave, thanks for giving me something to strive for in my training. Hugh, thanks for taking me under your wing. Mike, thanks for putting up with my snoring. Greg, thanks for the tips and support along the way. Ben, thanks for the company up those hills. And Glenn, thanks for all the laughs. You guys were great!

Hope we can do it again!

Roland
Glen Van Otteren, Grand Rapids - MI, USA
Hey there Marco!

Hope that you are doing well. I want to thank you again for a fantastic week in Tuscany. The trip was outstanding! I appreciate all your hard work that you put into it to ensure that we had a great time. It was duly noted! I also appreciated having Leif there. He was a solid assistant and guide on the road.

Thanks again!

Fondly, Glenn
Ben, Roland, Hugh, Mike, Bobby, from Ann Arbor, MI, USA
Hey Marco,

Think I'm speaking for everyone when I say we had an AWESOME trip with you! We made it back to the States in one piece. It truly was a wonderful experience and your description as a 'once in a lifetime' ride was not the least bit exaggerated. Thanks again to you and Leif for taking such great care of us! I look forward to returning to Italy with my family and am hopeful that your travels will bring you to Ann Arbor in November. We would love to return the hospitality.

Again, thanks for your help, enthusiasm, and attention to detail throughout this entire experience!
Hugh Salomon, Ann Arbor, MI, USA
Hi Marco , From Michigan - goeie more. gosh the time went very quickly - a magnificent time for all of us . The terrain was beautiful , food excellent but above all you and Leif were terrific - more than guides. You were our friends. Thanks so much for making this such a wonderful experience. We look forward to meeting you in the US hopefully later this year. Again Thanks Hugh
Clint, Brandyn, Lindsey and Erin, USA
I Bike Tuscany is very proud to announce that today, on the Florence to Siena ride, Brandyn proposed to Lindsey at the village of Fonterutoli. She said YES. (How could she not...?:-)

We toasted them with a chilled on ice Franciacorta rose. They loved it !!!