WHAT PEOPLE ARE SAYING ABOUT IBT
Neil and Lisa Wieczkowski, Buffalo, NY, U.S.A.
The tour was the HIGHLIGHT of our honeymoon... Thanks so much for putting us on your site, we're truly honored. Thank you again for such an incredible day, it will be with us forever.
Heather Pearse, Adelaide, Australia
Not sure if you will remember our bike ride, it was just on a month ago. I am now home in Australia and the bike ride was one of my trip highlights. Thanks so much for the day.

We will drink the wine and remember you. With kind regards and fond memories.
Mary (Maria) and Bijan Pashanamaei, Pennsylvania, U.S.A.
So sorry it has taken us a while to write to you. We just received the photo of Mario – thanks so much! We wanted you to know that our time spent with you was the best part of our trip to Tuscany and we told Diane this. We raved about you and how well you took care of us. We told Diane that she should hang on to you as a business partner because you were such a gem.

Thanks again so very much for the wonderful cycling through Tuscany. You provided us with the best views, the best food and the best accommodations of our entire trip.

We are grateful for your tremendous knowledge of cyclists and cycling and how you used this to create a magical tour for us. We told Diane that the only regret we had was that we didn't spend more time cycling with you! Next time, you will also be on a bicycle with us!

We hope to return to Tuscany with a bunch of friends to cycle with you again. Maybe the Dolomites next time!

Please know that if you are ever on the East coast of the US, you have a place to stay and cycle. We would love to show you Chester County, Pennsylvania from a bicycle.

All the best to you, your team and your business. Thanks again, so very much!
Jennifer Vettel
I just want to reiterate what Gail Hoerr already said to you, but our bike trip with you last week was most certainly the highlight of the trip for me! I saw Steve Runkle the other day (he rode with you last Tuesday), and he, too, said the bike trip was the highlight of his trip. You run a wonderful business, and I appreciate your accommodating us with our different opinions. It was especially nice to be able to add ten miles to our ride. Thanks again for a great day! I have already begun spreading your name to others.
Joe and Phyllis Snoddy, Glenwood Springs, Colorado, U.S.A.
Sorry it has taken so long to get back to you. We are not sure of the name of the ride we did, but If you remember it was the last week of June and you picked us up in Florence. We were going to do one of the easier wine rides but you told us that the castle that we were supposed to tour was not open that morning. You told us about another more difficult ride up a dirt road to a small village which I believe was called Volpaia. You convinced me, and I convinced my wife that we should do that one. Your description of the ride was right on and it proved to be pretty challenging and quite rewarding. We wanted to write a testimonial for you since we had such a fabulous time and even though it was difficult we really enjoyed it. The ride was fun, the bikes were perfect, your companionship was great and it was the highlight of our vacation. I would highly recommend your tours to everyone.
Brandon, Kem, Jim, Robynn, Andy, Angie, Elizabeth and Winston
Thanks again for the wonderful wine ride last Monday! Every one of us (all 7) said it was the highlight of our trip to Florence. You were so much fun and patient with so many opinionated women. Thank you! Here is a photo as promised. We look forward to our next bike ride with you!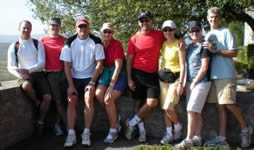 Janice
Thank you for such a memorable and unique day in Tuscany! We all had such a great time (although next time we need to train for your 'easy' ride ;-) ) and appreciate the trouble you went through to arrange such a delizioso lunch at a wonderful location. It is a day none of us will ever forget. It was so nice to meet you all. Thank you again.
Nicole and Michael Conlon, Boston, U.S.A.
thanks again for an amazing week... we will always remember it... you did a great job and we will tell anyone who is thinking of going to Italy to do it now while you are still there :)... hope you made it out of Rome ok... and that your tour this week is going well... thanks again... will stay in touch...

Nicole and Michael Conlon on their honeymoon
Judy Smith and Mal Owen
We finally got around to adding some well-deserved words of praise for the bike ride with you. To see it, go to www.tripadvisor.com

Then go down to the right side of home page and select GO TO FORUMS NOW. In forums, type these words in the Search box: Bike ride Tuscany. You should see a message from JustDucky9 about a Fantastic Bike Ride... Hope you like it - all true! Thanks again for a terrific time. You're the best!
Charles and Antonina Bari, New York, U.S.A.
I can't believe 1 week ago I was riding a bike through the beautiful hills of Tuscany & drinking Chianti and now I'm back in New York! This is terrible!!!

Antonina – my wife - and I both had a great time last Saturday. I'm glad I rode with you that day because seeing the Chianti region was as nice as I was hoping it would be. I equally enjoyed both riding through the little villages and through the countryside. It was all very nice. I wish I could come back out for another ride tomorrow.

I can't believe I'm suddenly 4500 miles away! It still feels like I'm so close. Oh well…

I'll certainly recommend you should I hear of anyone else I know visiting the Florence/Tuscany/Chianti region.

Also, if you see Sean (I think that's how you spell his name) again, could you thank him for the terrific tour he gave us? He was the guy at the second winery that we stopped at. I think it was Casa Sola? Or something like that? I can't remember at the moment. I really enjoyed his hospitality throughout his tour and I was very happy with the wine-tasting presentation along with the snacks. He was very nice and made it an enjoyable experience for us. To stand right next to the grapes in the vineyard field and see the farms along the rolling hills made it all worth it.

Thanks again. Grazie molto and buon giorno a te. Io spero quando ritorno a Italia il mio italiano è meglio!

Regards,